Which is the Greater Desecration: Luneta or Subic and Spratly?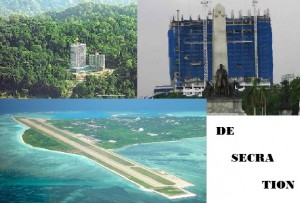 How easily we forget the lessons of recent history.
Back in 2008, the Philippine Senate conducted a hearing on the issue of South Korean shipbuilding mega-corporation Hanjin's rather clandestine arrangement with Subic Bay Management Authority (SBMA) to build two high-rise condominium buildings in the middle of the tropical forest inside the SBMA. (Please check: http://www.philstar.com/headlines/58413/senate-conducts-hearing-hanjin-condo-project-subic)
Today, D M Consunji Inc. (DMCI) has all but finished building a 46-storey condominium building (called Torre de Manila), apparently spoiling the backdrop of the Rizal monument in Luneta Park, Manila. The Supreme Court recently issued a temporary restraining order for DMCI to cease construction of the building due to rising public outcry against the so-called "desecration".
Let us look at that word again: desecration. It simply means to disrespect, diminish or violate the sacredness or holiness of a thing, an idea or a person. Hence, some UP students back in the old Diliman campus were charged with desecration by school officials for covering UP's official symbol, the Oblation, with "peryodikit" (old newspaper overwritten with red-letter slogans by militant students). Or a Catholic priest would call it a desecration — or even blasphemy — to take home a communion host and use it as an amulet.
Hence, desecration connotes diminishing the value of something through some overt or direct act contrary to the intended use, meaning or symbolism of that thing. In the case of Rizal's statue, the perceived value of the national symbol of heroism and sacrifice has been diminished through the intrusion of an eyesore even though that building is located somewhere else and intended for some practical economic purpose which is equally allowable by law. The desecration is more mental or ideal and not founded on any specific law or principle accepted by all. For if art or artistic taste is essentially all that is under question, then DMCI seems to have all the right to continue with its project. But the contention of the SC justices and those whose rights they are upholding is that the building has violated certain zoning and other legal restrictions. The lawyers find it difficult, it seems, to defend a mystical or artistic rationale for "desecrating" Rizal's monument and must resort to other more viable legal defense.
The desecration offense exists, apparently, only in some people's minds; and although it may be completely valid and noble in its cause and intent, it still has no physical or real reason for saying that the process of desecration can inflict or does cause direct harm to people, corruption of morals and actual degradation of the immediate environment. A person can legally file a case against another person for an insult committed against him/her. And this is what this Torre de Manila issue amounts to, in essence. Let the courts weigh the merits of either party's claims as to their legal rights. It is more about ideas, words and whims rather than about blood, sweat and tears. We mean the desecration, not the legalities.
On the other hand, the old Hanjin issue goes beyond mystical or artistic desecration. It is one we could call an environmental, ecological and economic desecration of our natural resources. The fact that SMBA officials issued an environmental permit for the construction (even though construction allegedly began before such a permit was finally issued) does not and will not justify the construction of those high-rise structures in the middle of a tropical forest. The rationale given that the US Naval authorities had used the area as an ammunition depot and, thus, developed the said area according to such a specific purpose, still did not justify putting structures for human habitation. Even if a colonizer or a foreign invader (for such were the Americans in Subic and anywhere else on these islands in the early 1900's) did decide to build a fortress on our mountains whether or not done under a treaty, the ultimate decision now rests upon the sovereign will of the people through officials acting (supposedly) on behalf of the people and not for a foreign company. Today, the condo buildings stand as testimonies to the continuing desecration of our patrimony and our diminishing natural wealth. But we have forgotten that this ever happened.
Move forward five years or so and we see the unilateral construction of military bases and reclamation of islands in the West Philippines Sea by the Chinese. We can say that people or nations are as equally guilty of desecrating not just the inherent rights of other nations but also their territorial sovereignty. Whatever methods are applied, it all boils down to gaining ultimate political, social or economic advantage over another nation. And again, using our public officials to bypass or manipulate the law.
How do you compare Rizal's alleged desecration and the desecration of our natural treasures which the Constitution upholds and protects? What is the real issue here?
We, the Filipino people, are fighting against so many forces, whether they are ghosts from the past or present marauders redefining our ways of life and limiting our capacity to enjoy what are historically and intrinsically ours. Spaniards, Americans, Japanese, Koreans, Chinese or fellow Filipinos have taken their liberties to do whatever they wish (or are allowed by our own officials, legally or not) and still majority of us have not truly enjoyed the fruits of the land and the precious heritage left to us by our ancestors and heroes.
Desecration is, finally, the corruption of values and the death of innocence for which Christ suffered and died in the hands of political rulers and religious teachers. The same death that Rizal went through on his way to establishing for us a genuine reign of truth and freedom, which today is still denied us by greedy predators. A dead hero cannot complain against how his selfie-statue will look; but a risen Lord and reigning King will have all the power to avenge the people who suffered in the hands of wicked rulers and teachers.
Desecration has a tall price: Infamy, Condemnation and Death. A fair warning to all desecrators.
(Photos above: Courtesy of Google.com)