New Album Release: Musikero (O, Kay Sarap Umawit) – Original Music by Vince M. Ragay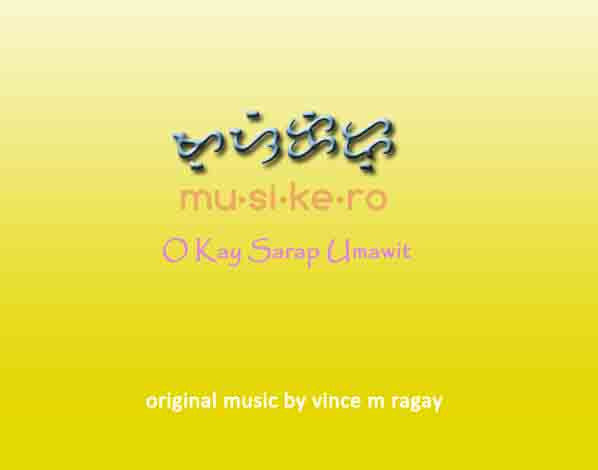 Album Song List
Musikero
O, Kay Sarap Umawit
Dahil Babae Ka
Sayaw, Maria, O, Sayaw
Minamayamaya
Walang Halaga
Kamalayan
Senior C Blues
In Your Eyes
Sing to Me
[To order the entire album in mp3 format, please send email to [email protected] or [email protected], or send a message to Vincent M. Ragay via Messenger. Album price is as follows:
1. PHP 450.00 or its equivalent in USD, for mp3 files forwarded and downloaded online.
2. , PHP 500.00 or its equivalent USD value, for ordering the album in CD form, plus corresponding shipping cost.
Please allow at most a week for delivery.]

Musikero (O, Kay Sarap Umawit): A Journey in Musical Fellowship
After almost two decades, this Musikero finally releases his second album entitled Musikero (O, Kay Sarap Umawit).His first album (Manariwa) was released in Baguio and San Fernando, La Union back in the early 2000's. Since then, a collection of various genre of songs filled up his notebooks, PC and smartphone with lyrics and demo-cuts of unpolished, as well as professionally-produced recordings of compositions written and developed since the early 1900's when he was "reborn again" in Baguio. Hopefully, the third album will be ready within a month or two; but for now, Musikero has the stage.
The album chronicles the composer's journey as a musician and creative worker — what the cover song refers to as "iba't-ibang kaalaman at samu't-saring karanasan" – hoping those experiences and ideas would fit every listener's desired musical interest or taste. The songs include recordings in a ladies' restroom at the defunct Risen Lord Academy (where the composer taught for a while) in Baguio back in 2000, with Zoella Starr Cabuco-Streigl (Vice-President of Christian Legacy College and daughter of the school President, Mrs. Vangie Cabuco) doing the lilting vocals of Sayaw, Maria, O, Sayaw. It was the last take made on her cassette recorder. (She also did the cover song for the Manariwa album.) Simple yet heartfelt, this rendition retains the raw and unadorned arrangement done by two struggling artists expressing life's conundrums in the song's theme, delivered in flamenco-style with a solo guitar accompaniment.
Another recording done in an old cassette recorder is In Your Eyes, again with a solo guitar behind a love ditty with a jazz-rock groove. It was meant as an experimentation and as a rehash of the pop songs of the late '70's before contemporary R&B finally took over the scene. Old school definitely; but classic to many old and young ears.
It took Musikero almost 10 years, after having settled in Baguio in 1991, to finally meet a professional sound-engineer in the person of Rey Jacildone of San Fernando, La Union. What a great blessing in terms of the musician's exposure to the principles and techniques of recording and sound-mixing, as well as to the long, tedious and expensive process of producing an album! But with the close fellowship that ensued from the professional connection, Manariwa was born, along with many other single musical and school audio-project productions. Staying in Lingsat, San Fernando for a couple of nights to do a couple of songs at a time and sleeping soundly in the dark and quiet studio through the hospitality of Rey and his wife, Grace, eventually served to make that album and many of the songs in this new album possible.
The songs that Rey Jacildone and I worked on joyfully and dutifully include the following:
1. O, Kay Sarap Umawit where Rey does the percussions. The reggae song was composed under a full moon in Baguio. It is both a song of love and praise to our Creator.
2. Dahil Babae Ka was recorded by a young lady from San Fernando whose name Rey and I have forgotten. Again, Rey does the percussions. Unabashedly, it pays tribute to Jose Rizal's Maria-Clara image of the proverbial Dalagang Pilipina, hence the flute reprise of that song's first line in the coda. So old-school, millennials will find it hard to appreciate!
3. Minamayamaya is a laid-back, acoustic blues, self-directed protest-song against the human penchant to procrastinate. Rey does the percussion and ends the song with his nonchalant voice-over.
4. Walang Halaga was recorded in Quezon City when Rey managed his friend's studio on weekdays. It is an environmental protest-ballad which was submitted to a songwriting contest sponsored by the National Commission on Culture and the Arts and gained the second prize.
5. Kamalayan was an entry to a radio network's search for a theme song but did not win. It is an anthemic paean that exalts the valor and sacrifices of our heroes in search of our national identity. Musikero's musician/preacher-friend, Tim Warden, who owned the studio where Rey and the composer first worked, said that if he were to choose a national anthem for the Philippines, he would choose this one.
Rey's good friend, Jun Tamayo, did the excellent arrangement (and superb lead-guitar solo) for this recording. Working with these two gentlemen who had worked with the best and the brightest in the music industry, such as FrancisM, Sharon Cuneta and others, raised Musikero's stage one notch higher.
Jet Prian (a former-student at UP Baguio and soprano soloist of UP Tinig Amianan glee club, who hails from San Fernando) provided stirring vocal backups for this challenging production when it was finally recorded in Quezon City.
6. Sing to Me, jazzy piece, echoes Musikero's infatuation with the idyllic qualities of San Fernando's farm lands and seascapes, a place he had once dreamt of living for the rest of his life. Although dedicated to the city, it expresses a person's longing to offer praise and thanksgiving to Nature's Designer and Protector.
In all of the preceding recordings, Musikero acknowledges the fine ear that ace sound-mixer Rey Jacildone put into their making, affirming his stature as one of the most-sought-after sound engineers in the industry before he immigrated to Canada.
Moving back to the big metro in 2003, Musikero had the privilege of meeting another excellent sound-engineer, Dodjie Fernandez of Proj. 4, Quezon City. Along with the vocals for Kamalayan, they recorded the art-song, Musikero, where Dodjie did the digital percussion back-up. This album includes two versions, that of the composer and of Hannah Manaloto, the highly-talented, young and lovely daughter of Roel and Daisy Manaloto (Buco Loco franchise-owners from Angeles City, Pampanga). Hannah sang this at her first concert at Music Museum, San Juan City in 2016 which she performed along with 3 other young artists. You can watch videos of Hannah's acoustic-guitar- and piano-backed versions in the YouTube videos below this article.
Finally, Senior C Blues is Musikero's tribute to the rock 'n' roll legends Chuck Berry and Elvis Presley, who formed his musical foundation as a child of 5 and whose songs inspired his father Emilio Ragay's rug-cutting exhibitions at home. The song was directly inspired by Musikero's senior-citizen barkadas in QC (Butch Dua, Rey David and the late Rene Buencamino) whose ballroom-dancing, Beatles-jamming and coffee-at-the-mall sessions introduced him into the inevitable onset of old age. The song parodies Musikero's pre-senior projections based on his friends' escapades. As predicted, Musikero was on denial as a senior citizen for the first few years until he finally relented: "Dapat lang aminin na Senior C na ako!" Still, the "young spirit" fights for his right: "Ako pa rin ito, ang tawag lang sa akin ay lolo."
Gerry Taylo, prolific singer-composer-musician, did the 60's-style, lead-guitar licks, while Gani Santiago did acoustic percussion along with the digital lay-out by Dodjie Fernandez, who mixed the whole production at his Proj. 4 studio. Musikero did all the vocals.
Musikero is deeply indebted and grateful to all these exquisite professional and musician friends who joined him in this wonderful journey. Listen and feel the joys and travails these Musikeros all went through in creating this album – a humble offering of peace, joy, fellowship, hope and love. Music would be nothing but noise without these virtues. The One and True Ang Musikero above meant it to be that way.