Adeve, Antra and Aldub: Great Love in the Making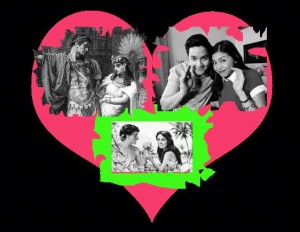 History records instances when love – the rare and special kind – inspired and led couples to heights of romance, happiness and splendor. And we, hearing of those tales, are likewise moved and, often, tickled to our bones.
Let us start with Adeve — Adam and Eve. Who is not mystified or bemused by our first parents? They started it all, from love to marriage to parenthood. But, ironically, not courtship. We cannot say Adam had no choice. Without doubt, his feelings were God-given – and so it was for Eve.
What we learn from this couple are the fundamentals of love — all kinds, from puppy, romantic, fraternal, parental and divine love. Behind the mysterious veil hiding Adeve's relationship, we can glean the first steps in our own journey to love. First, we learn how lonely we feel without the one we feel love for. Second, we explode into fits of joy when we fall in love, especially at first sight. Third, we surrender to the deep calls of love and commit ourselves to an exclusive relationship established by God – marriage. Fourth, we learn to react in various ways to our partner depending on the situation: empathy, trust, jealousy, anger, mistrust, dependence, frustration, despair, etc. Five, life is so much more beautiful because we love – it is our unbreakable link to Paradise.
Adeve still have so much to teach us as long as we live; for after all, we are exactly what our parents were. What we go through or experience as humans since the beginning of time is, in truth, what Adeve experienced, whether we are talking about good or bad things. Remember, their first son murdered their second son. Imagine what they would feel now after hearing of all their descendants who have been killed in all the wars and other atrocious human depravities. If not as parents, we feel the grief of losing our fellow human beings as their siblings, all of us descendants of Adeve.
Yes, we are all children of Adeve. In peace and war, we learn the simple and complex moves of falling in and out of love with our fellow children of God. Anyone who kills relives Cain's inability to love – for hate, though not always the opposite of love, can destroy life. However, sticking to love and its promises weathers all obstacles put before it. One day, we will stand and see our first parents and, in spite of their weaknesses, thank them for giving us life and the opportunity to love deeply and meaningfully as well.
We could have included Romiet (Romeo and Juliet); however, since they are fictional, we choose Antra (Antony and Cleopatra). Like Romiet, Antra were lovers who came from belligerent parties. Rome, upon Antras' death would eventually conquer Egypt in a conflict that affected a big part of the ancient world. Cleopatra, queen of Egypt, had been the mistress of Julius Caesar and, because of her beauty, also drew Antony, who shared the rule of the Roman Empire with Octavius (Caesar's nephew and who later became Augustus Caesar who reigned during Christ's ministry) after Julius' death. Of course, as rulers of two great dynasties, the couple's affair served to create tension between the two rulers of the Roman Empire which would lead to Antony's defeat in battle and in his suicide.
But Antra's affair would not have endured at all without undying love, for better or for worse. (Antony married Octavius' sister in a politically-arranged union.) Duty, marriage, distance, conflict and culture would not keep Antony away from Cleopatra. And although those challenges only strengthened their resolve to keep one another, the affair only ended into a tragic and dishonorable end for both of them. Cleopatra also committed suicide, if not for love, apparently to avoid humiliation at Octavius' hand. Or was she fed us with Rome's addiction to her beauty?
No less than Shakespeare wrote a play about Antra's romance. It is a tragedy that echoes that of Romiet's. As love inspires and gives life, it can also hurt and kill.
What kind of force is love that it can conquer lovers, nations, armies and civilizations? As the saying goes, "Love conquers all". Peasants, paupers, princesses and presidents have fallen for love's call. No other force can penetrate the barriers set before humans, whether space, time or social status. And even death, as in the cases of Romiet and Antra, could not quench love's fire.
And so, why do people defy all other forces in order to allow love to rule? What blinds people such that they see only love? Is it the feeling of love or the thought of love? Who knows?
Which brings us to the phenomenon we call Aldub. We may swoon to the mesmerizing tunes of love created by such pairs as Trisde (Tristan and Isolde) or Jotha (John Smith and Hiawatha), but we do so with a lot of help from excellent poets, musicians or even film-makers who raise their love to a higher level than those lovers themselves would have ever imagined possible. And every time we read or watch their stories, we recapture the magic that love brings. Perhaps, our own hearts do resonate with the same frequencies that they produced with their heart-strings as they stared starry-eyed at misty visions of the eternal Love City.
But what happens when modern technology does its own dream-making work of raising love to new vistas or real-time encounters among people the way it never did before? When we see love growing right before our eyes, just as we see a flower blooming in a few seconds through time-lapse photography? We end up falling in love vicariously with love and the whole idea of loving, not as individual persons but as a nation or as a global community. We swoon en masse into oblivion!
This is the whole process which unfolded into the Aldub Nation phenomenon. Many things have been said and done about it, including a movie which reprised love's resurgence in a different format. But we get ahead of the story. Or perhaps, we all know how it went and felt the same fanciful feelings they spawned in spite of the theatrical antics and commercial overload that came along with the story.
To make the story short, two young, innocent TV personalities met in a romantic "accident" that swept them into a deluge of admiration and celebration from the masses to the extent that more than 24 million tweets were sent at one point. All this live on television. Although the script called for the two not to talk to each other or even see each other except through TV screens and "dub smashes" (lip-synched love songs and sound bites), it became obvious that the two were not playing love but living it. Or were they?
Aldub is short for Alden Richards (Richard Faulkerson, Jr., his real name) and Yaya Dub (Maine Mendoza's character in the TV noontime show Eat Bulaga where this all happened or is still happening). Their gradual and eventual meeting was anticipated and celebrated at every step by millions of viewers and still watched by the thousands on YouTube.
But what do we learn from this modern love affair apart from the obvious entertainment value it offers? How do we rate it in comparison to Adeve and Antra? Are we made better by this phenomenon or are we merely prey to the social or commercial programming (read: brainwashing) going on in the media? Is this a disservice to the idea of love and a stain to its inherent purity?
These questions remain to be answered, not by Aldub themselves, for they could be unwittingly used for the benefit of a few moneymakers. We do hope that Aldub will rise above all the appurtenant media/business attachments to their young love and become worthy of our first two couples' standard of being exemplary — or, at least, being legendary. As it is, Aldub is exceptional, inspiring and refreshing, not to mention funny and addicting. Their contribution to love, as two individuals, will already go down in history as a life-like documentary to the hunger and the capacity we all have within us for the everlasting love we all assume Adeve gave us from the very beginning. Remember, Adeve's love is proof that love is for ever because we all still love. The day we all stop loving is the day the world will end.
Our responsibility now is not merely to love but to love the way we were meant to love. The circle of love merely repeats. We still use the heart to love. We still use the eyes to see the beauty around us. We still use the ears to listen to glorious music. We still use the soul to savor the glory of life given to us from Heaven. In short, love will continue to conquer hearts — of those who fall under it, as well as of those who only watch how love is waged or can be waged.
Adeve, Antra and Aldub – three couples who have given us a large picture of how love grows, breaks hearts and makes us laugh and cry at the same time. No one can define love. We can only show how it feeds people with fun, fancy, fantasy and fulfillment. It is like trying to define what water is by showing videos of how it can form waves in the oceans or rush down mountain slopes. H2O is not enough. A four-letter word (LOVE) – or a heart logo — will not do it. We have to see it or feel it ourselves to know what love is.
And, of course, we have to know, see and understand what love is not. Otherwise, we might be deceived and fall out of grace. Or worse, fail to love those we should.
(Photo collage above: From images downloaded at Google.com)