Preparing a Body for Eternity
From Adam to Christ to All Believers (To acquire a copy, please click here: Lazada)
There comes a ti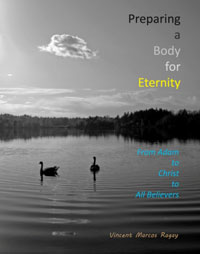 me in one's life when the deepest questions that have remained unanswered or unresolved require another lasting look in order to turn them over again and somehow fathom the secrets or mysteries that have kept one's view of life incomplete. Hopefully, this book will help many to share in taking that giant step the author himself took in the one year it took him to write this book.
In no way does it claim to be a complete or perfect retelling of the Gospel of Christ; but it hopes to bring the reader a step or two closer toward that bend on the road where a clearer view of eternal things suddenly appears and quickens one's steps toward our everlasting home.
Beginning with Adam and Eve, then through the history of the Jewish people and through the life of Christ, follow the inscrutable finger of God gently point us along in His majestic plan of saving humans and granting them the privilege of sharing in His life, glory and eternal joy. The greatest legacy of all should not be missed just because we fail to give our utmost attention at grasping the meaning of life and its bountiful promises.
Quotations from the book:
"God is preparing an incorruptible, immortal body for every person who puts his faith in His revealed plan. To receive that heavenly body, we must also prepare our physical bodies and our lives according to that plan of the Maker of the Universe."
"Eternity requires the focus of our whole being and our love. But if we take for granted its importance, we take for granted our very own life and our destiny."
"Unlike all the rest of humanity, Adam saw God and everything He created on the first day he lived. He opened his eyes and saw the face of God – full of love, light and beauty. God looked at Adam and saw that what He had created was good."
"Uniting them in marriage must have been God's way of defining and introducing love to Adam and Eve. In their case, union came before mutual love. You are one body. This is YOU (pointing to Eve), love your body, Adam. This is YOU (pointing to Adam), love your body, Eve. Marriage is the magical two-way mirror of God-designed love."
"Here is good news: Even death is a preparation for Eternal Life! It was especially so for Adam. For when the time comes, all eyes will be upon Adam, the first human, our first father. Then, perhaps, the statement of Jesus will be true in Adam's case: The first will be last. The first to be created and the last to be raised for all eyes to behold. And we will share eternal glory with him."
"Why did God create the Universe? Ultimately, so that He can experience life other than the life He has in Heaven. And He did this so that humans may also experience life other than the life we have on Earth."
"What Jesus did go through in His death and resurrection portrays the same process that every believer will go through in preparing our own bodies for Eternity."